Books of a New Order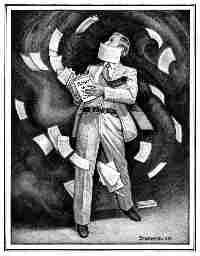 "Books of a new order would be written. A system of intellectual philosophy would be introduced."
PDF/GC New 'Fundamental Belief" Enlarging the 'Creed'
The Incredible Booklet: The SDA church is now definitely, without any doubt, in the avant garde of ecumenicalism.
The Oct. - Dec. 2004 Senior Sabbath School Quarterly
Connections: Babylon's book re-issued for Advent Believers.
Catholic Teachings in the SDA Hymnal!
Seventh-day Adventism The Spirit Behind the Church: A Critique of the Jeremiah Films Video: Bob Pickle. (Off site link)
Morris Venden and the New Obedience
Rick Warrens Book: The Purpose Driven Life The Book intended to Change your Thinking.- The Book some want to Indoctrinate you on. (also getting SDAs into celebrating Lent)
Replacing the Spirit of Prophecy
Errors in Our Two Doctrinal Books: in PDF QUESTIONS ON DOCTRINE; SEVENTH-DAY ADVENTISTS BELIEVE: The most controversial book in the history of the Seventh-day Adventist Church, Questions on Doctrine has been reprinted. Therefore, it is urgent that we once again turn our attention to a dark day for our church, which began nearly fifty years ago in the spring of 1955.